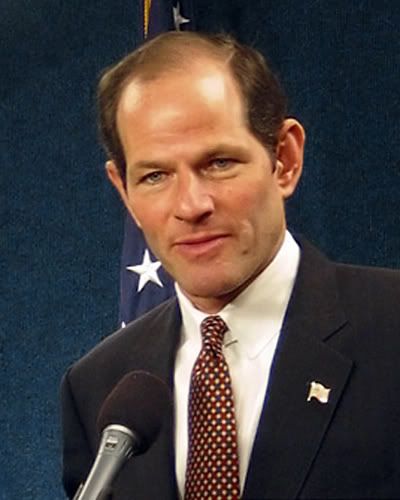 NY Gov. Eliot Spitzer (D) has admitted he was a
customer of a prostitution ring
which charged as much as
$3,100
to
$5,500
a hour.
The NY Times notes that prostitution cases are rarely federal crimes but a 1910 federal law "makes it a crime to transport someone between states for the purpose of prostitution. The four defendants charged in the case unsealed last week were all charged with that crime, along with several others."
FOX reports that Spitzer, the former state attorney general, will resign Monday night. Update: CBS 2 reports " Lt. Gov. David Paterson could be sworn in as governor as early as 7 p.m. Monday."
From his January 2007 inaugural address:
Every policy, every action and every decision we make in this administration will further two overarching objectives: We must transform our government so that it is as ethical and wise as all of New York, and we must rebuild our economy so that it is ready to compete on the global stage in the next century.
Spitzer (48) is married and has three daughters. At his brief press conference, he apologized to his family and his constituents.
I don't understand how politicians can be so reckless. The corruptive effect of power? The type of individual drawn to elected office?
From around the net: Althouse, Digby, Firedog Lake, The Guardian, Greenwald, Moderate Voice, Power Line, TPM Muckraker.
Related:
Profile: NY Governor Spitzer
Sex and Politics In America
Spokane Mayor Recalled For Sex Scandal
Foley Resigns Amid Scandal With Male Minors
Bad News For Larry Craig
Injustice In Georgia: The Case of Genarlow Wilson
Comments are closed for this post.